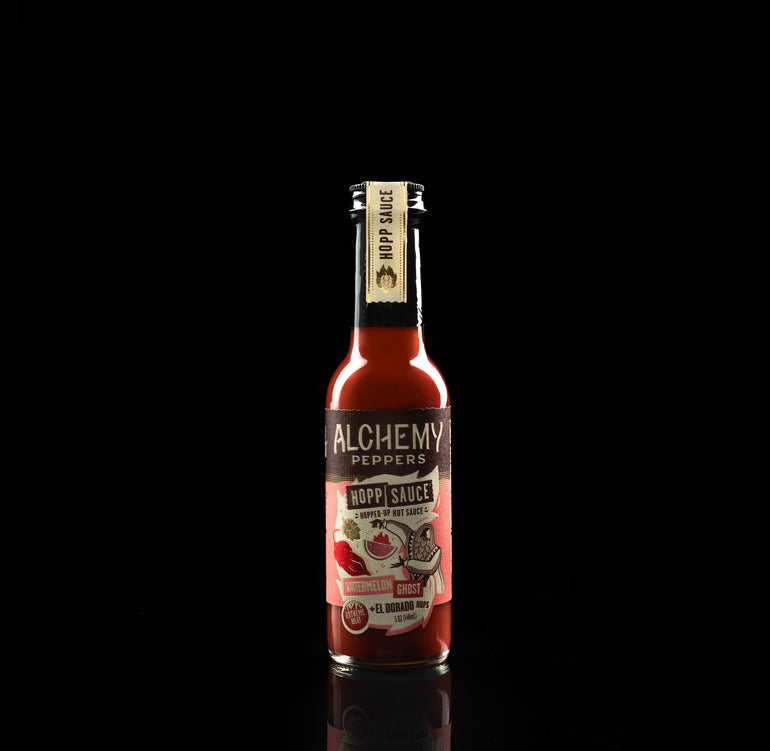 Nightshift Brewing's flagship Hazy Pale Ale with rich peach puree and a dash of bird's eye chili for a sweet swirl of hoppy heat. 
Each bottle is packed with sweet, fruity flavors that create the perfect full body flavor for the scorching pepper heat to compliment. Our variety 2-pack is the perfect gift for hot sauce lovers and flavor fanatics.

Watermelon Ghost: Watermelon Puree, Ghost Pepper, Red Bell Pepper, White Peach Puree, Mango Puree, Garlic, Salt, Citric Acid, Hops

Dark Cherry Reaper: Sour Cherry, Dark Sweet Cherry, Red Bell Pepper, Blueberry, Carolina Reaper, Mango, Water, Lemon, Garlic, Salt, Citric Acid, Hops





---
About Us
All Natural
Real flavor comes from real food. That's why we never use artificial ingredients, flavorings, or preservatives. From our peppers and hops to our strawberries, pineapples, and limes, we make real sauce from real stuff.
All Fresh
Many companies ferment their peppers to preserve and flavor their sauces. At Alchemy, we believe that the freshest ingredients create the greatest taste. So no vinegar and no fermentation. In every bottle of Hopp Sauce, we let the fresh peppers speak for themselves. 
All New
Every bottle of Alchemy begins as an adventure into the unknown, a leap toward the future of flavor. Applying advanced gustatory research, completely natural ingredients, and a spirit of discovery, we make flavors you've never tasted before.
Shipping
Fast shipping
All orders are processed within 48 hours excluding weekends and holidays and ship from our East Coast facility. Transit time is typically 1-5 business days. As soon as your order is shipped we will provide tracking information by email.
Order tracking
After placing an order, you will receive an order confirmation email that includes a tracking ID where you can follow the transit and delivery status.
FAQ
Are these sauces gluten-free?
Yes. The sauces in our 3-Pack Sampler are all gluten-free.
Returns & Refunds
Orders that arrive broken, damaged, or otherwise unusable will be eligible for a full refund or replacement at no cost, provided that proof of damage is submitted to info@alchemypeppers.com.
Orders that arrive intact are not eligible for returns or refunds.